2018 Bassmaster Texas Fest
Lake Travis
Jonestown, Texas
59th Place | 10 fish, 20-07
My first event in my first season on the FLW Tour back in 2007 was on Lake Travis outside of Austin, Texas. The lake was 45 or 50 feet low, and it was early in the season so I used a float n' fly to make the top 10. I was excited to head back, but I knew that the lake would be different over a decade later. First off, it's probably just 15 feet low now, and because we were fishing in mid-May we could put away the winter clothing and break out the shorts.
FLW went back to Travis last year, and while their tournament was again held early in the season they caught lots of fish so I didn't expect limits to be a problem. Although I knew there are some big fish in there, I figured that size might be tricky.
I spent the first day of practice down lake. It was cloudy and windy so I started with a topwater that produced bites right away. I caught 2-pounders off of each of the first two points I fished, then caught a couple more. It seemed easy, but then it got harder. I spent the remainder of the day bouncing back and forth between deep and shallow areas on the lower end, but I never figured out anything that I thought was particularly useful.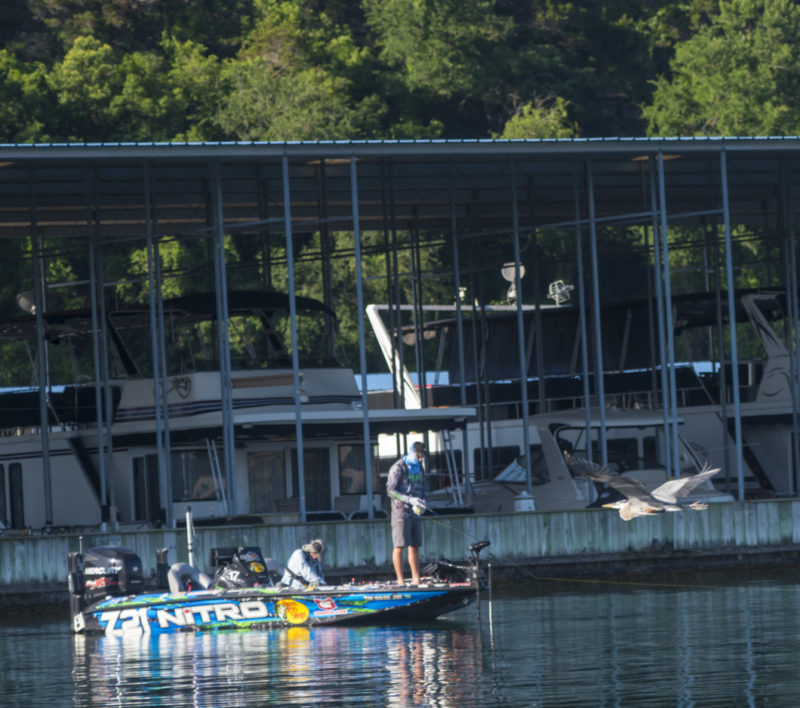 Having seen the lower end of the lake, I decided to run far up the river on the second day of practice. Once again, I started catching fish almost immediately, without any particular rhyme or reason. Then I went far up and caught a 4-pounder almost as soon as I got there. I figured maybe I was onto something, but I fished similar places for several more hours and only got one keeper bite. It was a little bit discouraging.
It's not that it was hard to catch fish, just that it was hard to catch keepers. In fact, you could catch small fish just about anywhere – out in the middle of the lake or dirt shallow on the bank. Getting bites wasn't a problem, but few of them clued you in to anything at all. A few of those 2 ½ to 3-pound bites would be worth their weight in gold.
I elected to stay down the lake on the third and final practice day. I spent a lot of time spooning in deep dock slips and a few times I saw two or three keepers together. Either I'd catch one and there'd be one following him, or else several would storm it on the way up. I never caught a really big one that day on the spoon, but I felt like the potential was there. My plan was to start in some areas where I'd seen schooling fish come up early, and then move to the docks when the schooling action died off.
I started the tournament in an area where I'd caught a few decent keepers in practice. There had been a ridiculous number of fish overall there before the tournament, but when I got there the first morning there was hardly any activity at all. I caught two or three little bitty ones, and then left for my next schooling area. Stop number two wasn't any better. The schoolers only came up once or twice, so I decided to go looking. I headed to an area outside of a marina and this time the schoolers came up long enough for me to land my first keeper at 9 o'clock on a Ned Rig.
With my livewells finally pumping, I moved over to the marina docks and started spooning. A small fish got me hung up on a bar in an empty slip, so when I moved in to get it loose I dropped my spoon back down in 54 feet of water and caught keeper number two. I dropped again and got bit again, taking me from one keeper to three in just a couple of minutes. I figured I was onto something, but I fished a bunch more slips without catching anything else.
There was another marina not too far away so I headed straight to what I thought was the good part – and it produced nothing. Once I got to the other parts of it, though, things got better. I caught a 2-09 for my fourth fish, and then finally completed my limit. That fifth fish came from a big platform around the gas dock. Sometimes you'd get hit as you reeled the spoon up or worked it toward the surface. This time I reeled the spoon up and twitched it under the platform and that's when he hit. There were several more with it, and I got another bite, but couldn't help myself. Finally, at about noon I culled one time with the Ned Rig, and that was it. While I caught plenty more fish, I never culled again that day.
My 8-07 limit had me in 79th place, which was pretty discouraging. On the other hand, I was only about 3 pounds out of the cut, which on a lake like Travis is just one decent bite. I'd guessed that it would take around 11 pounds to make the cut and I was right on the money. I was almost as proud of that as I was of anything else I'd done that day. I had my work cut out for me to make a charge back into the cut, but I also knew that one 5 pounder would get the job done. I went out with that mindset.
On Day Two I started down the lake again on a different schooling area but the results were equally disappointing. After five minutes I had only caught one little fish, and decided that I was done with the clean water. You could catch 8 pounds just about anywhere. I wasn't going to beat my head against a wall anymore. I was going to the dirty water.
I left for another area where I'd seen them schooling and quickly I caught three keepers on a Spy Bait among a bunch of short fish. They were all just plain keepers, though, the type you need to cull out, so I decided to move over to some docks where I'd had caught a few keepers in practice and fish like a man.
I pulled out the Terminator Pro's Jig that has been one of my key baits across the country for a number of years, and on the third dock I landed a 3-pounder. It seemed I'd made a good decision and I was going to roll with it. On the next dock I caught keeper number five and figured I was onto something, but then it died on me. Over the next 10 docks I didn't catch any fish. On the five docks after that, I caught fish on all of them, but no keepers.
With the dock bite inconsistent, I left for some deep structure spots where I could crank and throw the spoon to try to cull. They were loaded with fish – I caught at least 70, with lots of doubles –but the keeper bites were virtually nonexistent. I had one 2 ½ pounder grab my crankbait, jump and get off.
With that frustration seared in my brain, I went back to the bank and on the second dock I caught one almost three pounds. At that point I told my Marshal that if I tried to go deep again it was his job to tell me I'm an idiot. I stuck with the plan, but the dock bite died, too.
With less than an hour to go, I knew I needed a couple of big bites to move into the 50 cut. I pulled out a big topwater and started covering ground, and my intuition proved to be pretty good when I started getting bite. A decent one missed it after about a quarter-mile, but on the next chunk rock corner I picked off a 3-pounder and culled. Two casts later another good one missed it and I knew that I had something figured out. On the next point, a 3-pounder smoked the lure and surged down. When I got him close I saw that there was just a single hook in his back, and as much as I tried to keep him from jumping I just couldn't do it. The fish went airborne and came unbuttoned. Then I missed two more. I had six bites that would have helped me in the last 45 minutes, hooked two of them and only put one in the boat. While I moved up 20 places, I still missed the cut by exactly a pound. Any of those misses would've enabled me to fish on Saturday.
It's a frustrating way to end a tournament, knowing that you figured out something that worked for a lot of the leaders, but did so too late to fully capitalize on it. All I can figure is that many of them had better schooling spots than I did. Maybe I had the wrong profile or bait color, but I didn't' get another day to do it again and find out.
Most of my fish on Day One came on a ¾ ounce jigging spoon. I fished it on a 7'6" Bass Pro Shops CarbonLite heavy-action rod, paired with a Johnny Morris Platinum reel (8.3:1) spooled with 20-pound test XPS Fluorocarbon. I was typically fishing it in and around dock slips with all sorts of metal edges so I needed the heavy gear to get the fish away from the cover and into the boat quickly. On Day Two my faithful ½ ounce white Terminator Pro's Jig did most of the damage. As usual, I paired it with a matching Swim-N-Elite Chunk and I used the same reel and line as I did with the spoon. My rod was the 7'1" medium-heavy Johnny Morris Platinum model.
The other equipment that played a key role in helping me get through this event were my Humminbird Electronics. With Mega Imaging I could see exactly how many fish were down in those dock slips and often how big they were. I used my 360 at times to stay away from the cover and still view what was underneath.
While I'm not thrilled with a 59th place finish, it's not a killer. You always want to make the cut, but it's also important to avoid the bombs. I'm now in 21st in the AOY race, and the Sabine River will provide me with my next chance to improve that status. The Sabine has never been much of a friend to me, but it's time for me to make it my friend.