2017 Elite Series
Lake Okeechobee
Okeechobee, Florida
2nd Place | 20 fish, 82-01
After a solid start at Cherokee, I wanted to keep the momentum going in Florida. Even though I'd finished 15th there in an Elite Series tournament in 2012, I've never considered Florida-style fishing to be my strong suit. Nevertheless, I enjoy the weather and based on weights in recent tournaments I expected it to be a great event. Fortunately, that's how it turned out for me.
I started practice on the north end of the lake, around King's Bar where there are always a lot of boats. I spent much of the time just riding and looking until I happened upon a bunch of diving birds. When we were there in 2012 there was a bit of a shad spawn in the morning and that's what was happening once again. I stopped and had five bites pretty quickly and landed a couple of 3 pounders. The action was so fast and furious, with so many bass blowing up on the shad, that every time I went to cast another one would explode somewhere else. It was a very promising start but I knew that I needed to find more.
After that I fished and fished and fished, but except for one stretch where I flipped up four or five fish up to 2 pounds, I didn't find much that was very exciting the rest of the day.
On Day Two I started off north again, covering water and working my way south. Whenever I got a bite it seemed I'd catch three to five of them in the course of an hour. Florida is all about finding the right areas, so I just kept on going, never doubling back. I jerked on every bite that I had, and in one particular stretch I missed a couple of fish that felt bigger than the rest, so I had something else to go back to.
The last day of practice I tried to look for some off-the-wall stuff before storms rolled in around 11am, and I actually had my best morning, including a 3 ¼ pounder that was the best bass I landed during practice. They mostly came on a topwater but I never ended up fishing that area during the tournament. By the time practice was over I felt that I had three or four areas that had potential. My history in Florida told me that on those occasions when I spread myself too thin I tended to do worse. If I kept my efforts confined to a limited number of areas I'd usually do better.
The question was whether I'd get the quality bites I needed. The lake was fishing well, with more 2 ½ to 3 ½ pound fish than ever before, which is important because in Florida it often seems that all of the bass are under 2 pounds or over 6.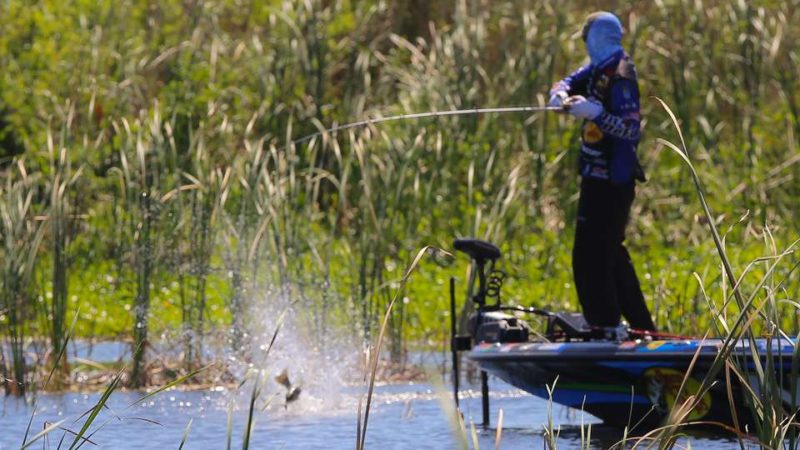 On Wednesday night we had a strong south wind, which I knew would affect my shad spawn area. It was blowing straight in on it and dropped the visibility from 8 inches to less than 4. Even though I knew it would be pounded and muddied up, I decided to give it a shot. Rather than the frog I used in practice I'd rely more on a bladed jig. It just seemed too muddy for a frog.
My best spots in practice seemed to be around the dollar pads, and after fishing through my best stretch without a keeper there was one last patch of pads to fish on my way out. I decided that I'd allow myself five more casts with my Terminator Popping Frog and when one ate the frog it felt like I'd set into a stump. I knew it was a big fish but I couldn't get a sense of how big in that muddy water until its back broke the surface like a shark. When it opened its mouth I could tell it was a giant and when I lipped it I was sure that it was at least 7 pounds. It turned out to be 8-06, even better. That's a heck of a way to start the day, but after 90 more minutes or so I'd only had one more little fish roll on it and miss the frog, so I left at 9:30 with my kicker in the box.
At that point I went down to the outside edge of some reeds where I'd seen a few spawners and started throwing a green pumpkin BPS Shadee Shad soft jerkbait. I quickly lost one fish, broke another off and missed a third. With that big girl in the livewell I knew it would be critical just to catch a limit. Pretty quickly I landed a 2 ½ and a 2 ¾, which settled me down quite a bit. I fished my way toward the back where there was a thick patch of dollar pads and I threw a Terminator Walking Frog in the cocoa camo color – my favorite shade around the spawn, especially when the water is clear, because it looks like a bluegill. I caught a keeper on my second cast and ended up culling several times before I landed a 5 pounder. That got me excited because I knew that I was within a good bite or two of doing really well.
With about 90 minutes left I went down to an area with some Kissimmee grass and reeds and on one of my first pitch I got a bite that went nuts when I set on it. Normally a 3 or 4 pounder will just ball up in that tough grass, but this fish was big enough that it cut it like a knife through butter. I had to go in on the trolling motor to get her and she appeared to be every bit of 6 or 7 pounds. That culled one around 2 ½ pounds and I was fired up. I worked my way back and with 20 or 30 minutes left to fish I got to a cut in the grass, got a bite, and when I jerked it was solid again. This time the fish came out into open water and a group of recreational anglers started cheering. In fact, they went about as nuts as I did. This fish looked like the twin of my first giant, and I figured I had two over 7, one over 6, a 5 and one a little bit less than 3, which would put me at 28 or 29 pounds. When the scales dropped to 31-03, I was thrilled. That's the biggest sack I've weighed in during an Elite event – my previous best was 30-15 at Falcon. I once weighed in 31-04 at a TTBC, but that could have been even more since they measured in ¼ pound increments. Still, I was in first place and sitting pretty with a lot of fishing left to go.
There was no reason to change much about my rotation or my presentations on Day Two. In fact, with a strong north wind the night before my first area cleared up again. Unfortunately, I couldn't get a big bite there. I probably caught 10 keepers, but none of them were over 2 pounds, and I left with a limit that weighed about what my one fish the day before had weighed.
With that small limit in the box I went down to the bay with the dollar pads and culled a few times on the Shadee Shad and the Walking Frog, mostly fishing behind the eel grass and working my way out. When the water got a little off-colored I saw a shad jump out of the water and a fish wake behind it just like a bass chasing something off its bed. I threw my Shadee Shad in there and caught a 3-pounder, and then another about 3 ¼. After that I flipped the stretch where I'd caught the two big ones the day before but only managed two or three small keepers.
With time running out I headed back to some eel grass near the take off and quickly got a bite on my bladed jig. I told my cameraman that it felt big and when it jumped it sure was. It turned out to weigh about 6 ½ pounds, allowing me to cull a 2 pounder and jump up to 17-03, which left me in 2nd behind Timmy Horton. Without that fish, I would've been in trouble.
I had hoped to get to 50 pounds that day, and fell just a little bit short. I was about 8 pounds behind Timmy, but at Okeechobee that's not all that difficult to make up.
I decided to start Day Three where I'd caught the big fish at the end of Day Two, but the area only produced one tiny keeper and I was gone pretty quickly. I headed to my shad spawn area and quickly caught a couple of 1 ½ to 2 pound fish before I landed one around 4 ½. I was excited to see another quality fish. The shad spawn usually produces a little bit better quality than just fishing around, and sure enough I landed a couple more about 2 ½ to start building a decent bag.
The shad spawn typically started to die around 8am and was often dead by 8:30, so I cut out quickly and headed down to my bay area. Once there I culled up with my Shadee Shad and with the frog, which produced my best fish that day. Unfortunately, the flipping bite didn't pay off and I came in with nothing bigger than the 4 ½, for a total of 14-14. I was still in 2nd, but 8-10 behind Timmy. He only had 15 pounds that day so I could've made up some ground, but I'm not quite sure what I would've done differently. It felt good to make it to Sunday again, and more than any place else it's possible to make up a big gap in Florida. It's entirely possible there for the leader to have 20 pounds one day and 7 pounds the next doing exactly the same thing. I felt no pressure whatsoever, and slept soundly until Sunday morning.
I started the final day of competition on my shad spawn area and caught a 2 pounder and a 2 ½ very quickly, then went up to the mouth of the river and caught a few more. The wind was blowing hard, but I went further north, looking for something else, but I never saw anything I liked. I knew it was going to be rough heading down so I took my time, trying to avoid getting beaten up.
When I got to the bay there were some dead reeds at the mouth where I'd missed a bite on Day Three. I put my Talons down and quickly caught a 2 ½ pound bonus fish. At the next clump I threw out my Shadee Shad and caught a small one that didn't help. Two clumps later I had one smoke my flipping bait as I reeled it back to the boat and it turned out to be 3 pounds, which helped. With the change in the wind the fish had been pushed tighter to the cover, and while I was getting bit I didn't think I could win there. I thought it would take 20 to have a chance and 22 to 25 to lock it down. With that in mind I went down to explore some new places including one area that David Mullins had told me about before he got cut.
As I eased in I saw a big fish sitting on a bed. I pitched in and caught the male. Unlike some competitors, I don't mind sticking the male because sometimes I think it makes the female more aggressive, but this big girl didn't want to play.
I caught a few more small males, saw a 4 pounder swim by, and then headed back to the big one. On the way back I pitched a 6" Bass Pro Shops Stik-O to a clump of reeds and caught a 4 pounder, a good cull. After that I set up way off the big fish and threw a little bit of everything at her with no results. On my first cast with a swimbait she followed it for 15 feet but wouldn't bite it, and then never followed again. On my first cast with a wacky worm on a spinning rod she turned on it, swam over to it, and I felt my line tick before she swam away, but when she left the bait was still there. I don't know what happened. She was 7 pounds, so it was worth it to spend an hour on her off and on, but eventually I had to give up.
Eventually I left to fish some reeds and quickly got what felt like a good bite. When it bit, I planted my feet to prevent the fish from getting buried up in the cover. It porpoised on the hook set and I lifted a 6-plus into the boat. It was a big cull, and I was excited, but winning hadn't crossed my mind. I still had 20 or 30 minutes left to fish. On the next clump, on my next pitch, another one bite and when I jerked I completely whiffed. Who knows how big it was, but I was geared up for another big bite.
With 5 or 10 minutes before I had to go in, the studio crew called and asked what I had. I told them 16 ½ or 17 pounds. Then they asked what I thought I needed to win. I didn't know, but that question led me to believe that it was going to be closer than I thought. Ultimately I ended up 1 pound 4 ounces behind Timmy. I don't really have any regrets other than that I figured it was going to be rough and I came back 20 minutes too early. I was genuinely happy for Timmy and believe that it worked out the way it was supposed to. He lost a giant on the third day and I've missed victories in the past when something like that happened and I'm sure he was relieved that it didn't cost him. Don't get me wrong, I definitely would've deposited that first place check, but it might've felt like it had an asterisk attached to it.
I fished very clean this week, and that's because I'm using the best equipment I've ever had. I caught the first 8-06 on a Terminator Popping Frog in smoke silver shad, and fished the Walking Frog Jr. in the same color, as well as in cocoa camo. Both were on Johnny Morris Carbonlite reels (7.5:1) with Bass Pro Shops 30 pound braid, but the popping frog was on a Titanium 8 7'2" medium heavy rod and the walking frog was on a 7'4" medium heavy Johnny Morris Platinum rod.
I fished the green pumpkin Shadee Shad on the same 7'2" Titanium 8 rod paired with a Johnny Morris Platinum reel (8.3:1). I threw it on 14 lb. XPS fluorocarbon and used a 3/0 VMC worm hook.
My flipping rig incorporated a Bass Pro Shops 4 ¼ inch River bug (black blue) paired with a matching punch skirt and a 5/0 VMC heavy duty flipping hook. I paired it with ½ and ¾ ounce Swagger tungsten and fished it on a Johnny Morris Platinum 7'10" heavy action rod paired with a Platinum reel (8.3:1) spooled with 65 lb. Bass Pro Shops braid.
The other elements of my equipment that were critical were my 10' Talons, which are always a big deal in Florida, and my Atlas jackplate, which gave me more freedom to move in the shallow water. I also rely heavily on my Hydrowave everywhere I go. It boosts my confidence.
Next up is the Bassmaster Classic at Lake Conroe in Texas and I'm excited about it. There's no doubt that I'm fishing well, but I'm not overwhelmingly confident. I told Davy Hite at Okeechobee that I'd slept poorly before Day One because I was scared to death that I wasn't going to catch anything. I don't know why it's working, but it has me in a good position so I'm going to keep trying to catch as many as I can and hope that I come across some big ones.